This is not so much a case study as it is a Little Shop of Horrors.
When a hot electrical connection or other thermal anomaly is found it's usually documented with pictures, temperatures, and a description.  A time is then scheduled for the repair to be made during a normal, or at least planned, maintenance outage.  If the electrician from the plant decides to do so, and it's not detrimental to the process, repairs can be made on the spot.  In either case the problem is addressed, usually by repair or replacement, and the bad connection never deteriorates to the point of failure in service.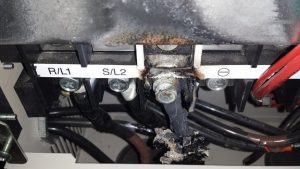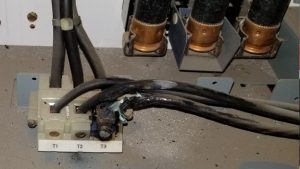 Here are three photos of equipment that was still in operation but was in the process of self-destruction.  It's impossible to know how long they would have lasted if left undetected, but almost certainly they would have burnt up while in service, sooner rather than later.  They are all from 480 volt power circuits.
The first is a circuit breaker from pump motor control at a chemical plant in West Virginia.  A standby pump was immediately put into service and this motor control center bucket was removed.  You can see that the left phase is completely burnt up and it appears that the copper strands of the cable melted together at the connection.  Luck played a role in the fact that it was still running.
The second is from a hardwood lumber kiln in western Pennsylvania.  It was running at the time it was found.  Although temperature and humidity must be carefully controlled in a lumber kiln, this circuit was able to be removed from service and isolated long enough to make an emergency repair.
The third photo is from an assembly plant in Ohio.  This circuit fed power to a welding operation which was not in operation at the time of inspection.  There's no way to know which cycle of operation the welder would be in when the connection burnt up, but all were glad to find it and make the repair before that happened.
All three types of equipment are common in such varied locations as hospitals, commercial buildings, water treatment plants, steel mills, manufacturing plants, or any other site with 480 volt equipment to run.  Finding and fixing the hot spots before they fail and cause shut down, or worse, is the goal of an infrared thermography program.