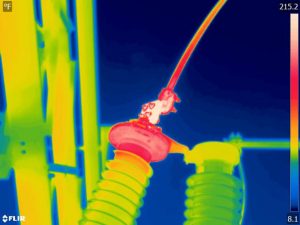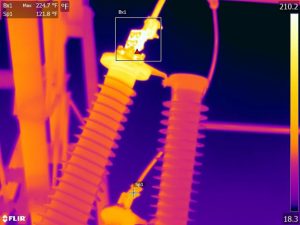 This is a problem often found in high voltage substations:  a hot connection at the top of a transformer or circuit breaker bushing.  This particular case is not the usual hot cable connection though, and it demonstrates the value of a high-resolution camera.
It's obvious at a glance that one circuit breaker bushing is hot at the top.  This is usually due to the line (cable) connection at the bushing developing a high resistance over time.
With a closer inspection and aided by high resolution and the use of differing color pallets, it becomes obvious that the source of the heat is the line terminal connection hardware at the top of the bushing itself, and not the line to the terminal.  That's a nice piece of info for the person making the repair to have going in.
As with most "hot spots" found in electrical equipment, this was not a difficult repair once the breaker was deenergized, the appropriate switches were opened and locked, and the space was made safe for work.
After unbolting the terminal from the bushing, a visual inspection was made.  The connect ion metal and hardware was still sound.  Cleaning the surfaces and reconnecting cleared the high resistance.  Even though the line connection was not getting hot, it was disconnected from the terminal, cleaned, and reconnected too.
Equipment like this is found in Electric Utility Substations and larger industrial sites with outdoor substations.  These substations typically contain transformers, circuit breakers, high voltage switches, overhead line connections, capacitors, and the like.
This substation was at a gas turbine power station in western Pennsylvania but similar equipment is everywhere.